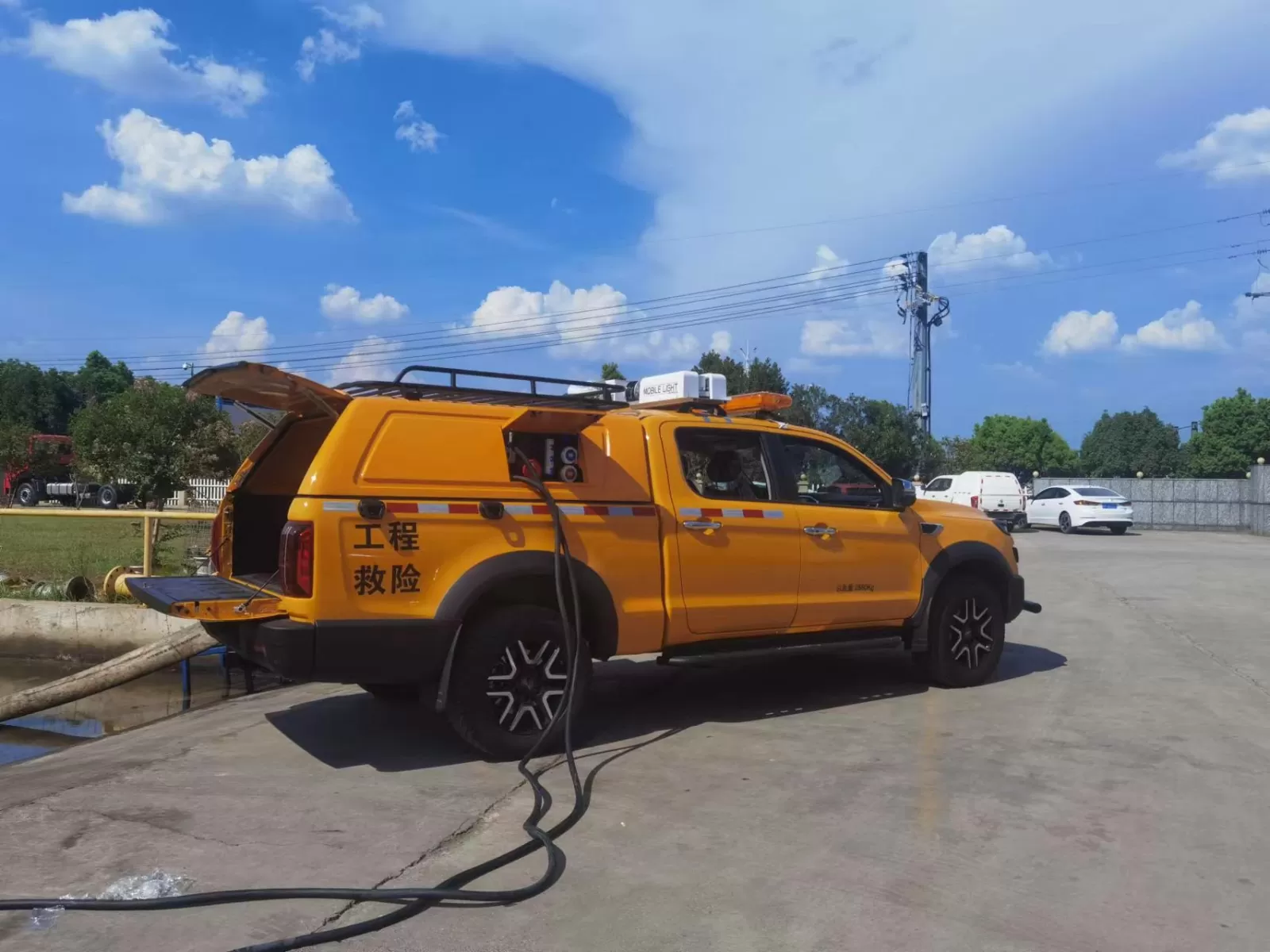 Longnose EE series drainage pickup truck
Longnose ® EE series drainage trucks are the world's first multifunctional emergency rescue trucks. It is converted from a pickup truck, using the truck's engine as power, and driving water pumps or other electrical equipment through a full-power power take-off and generator system.
The PTO and mechanical transmission system are mounted under the vehicle chassis, while the generator, VFD, control box and portable water pump are mounted above the chassis, giving its cabin a large space for other equipment and tools.
Longnose ® EE series drainage pickup trucks are specially designed for flood control and drainage in emergency situations, and are usually used as emergency backup power stations to supply power to residents or for other purposes. When used as a drainage vehicle, it is usually equipped with 3 portable drainage pumps, which can generate a large flow of more than 2400-3200 cubic meters per hour and a lift of 8-10 meters.
Longnose ® EE series drainage pickup trucks are a number of domestic and foreign patented products. Taking full advantage of the powerful power and mobility of the vehicle, the creative combination of the water pump and the pickup has brought a new concept and solution to the field of emergency rescue. Ideal for drainage, irrigation, and power generation.
application


urban flood control,

Municipal sewage discharge dredging,

agricultural drought-resistant drainage and irrigation,

Fire remote water supply,

on-site engineering operations,

emergency power generation


feature


● It adopts the unique patented technology of full-power electromagnetic energy extraction, which is the first in the world;
● It adopts the original patented technology of automobile power generation, leading the industry;
● The rated output power of the on-board power generation system is 3-4 times that of the same level of power generation vehicles;
● The displacement of the whole vehicle is large, which is 4-6 times that of electric pickup trucks of the same level;
● The generator set is green and environmentally friendly, and the National VI emission standard is three levels higher than that of similar electric drainage vehicles;
● Portable electric drainage pump is small in size, light in weight, large in displacement and easy to deploy;
● One car is multi-purpose. In the flood season and typhoon season, it can be used as a drainage vehicle, and it can be used as a power vehicle and passenger vehicle in normal times;
● After the vehicle is modified, the chassis maintains the original ground clearance of the vehicle and has strong off-road performance;
● The vehicle is equipped with a traction brake steering system, which can safely tow other mobile equipment;

Technical Information
Water supply and drainage system
Power system
Single flow rate (m3/h)
Lift (m)
(pieces)
Total flow (m3/h)
Pipe diameter (mm)
Maximum power (kw)
output voltage (v)
EE1000PK-P48
500
10
2
1000
200
≥48
380
EE1500PK-P67
500
10
3
1500
200
≥67
380-416
EE1800PK-P67
600
8
3
1800
200
≥67
380-416
EE2400PK-P90
800
8
3
2400
250
≥90
380-416
EE3200PK-P120
800
8
4
3200
250
≥120
380-416